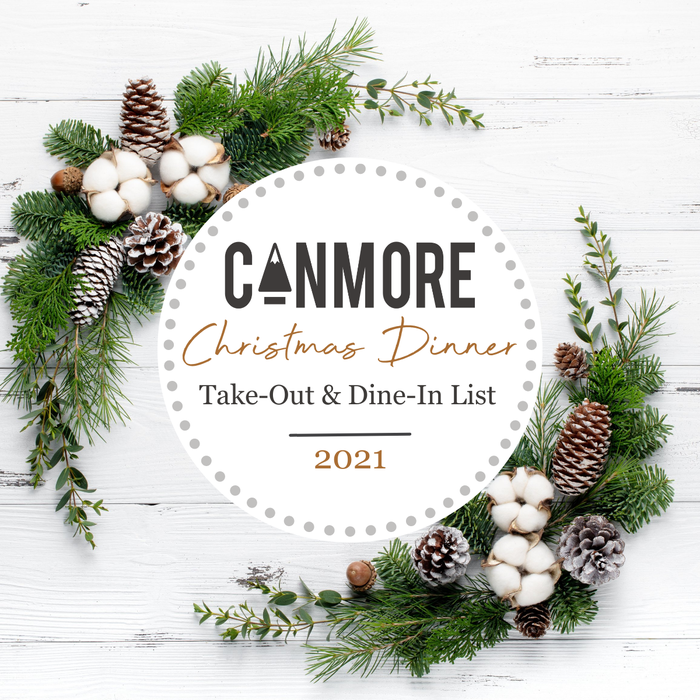 Don't want to slave away in the kitchen this Christmas? We got you! Back by popular demand is a complete list including menu choices & all ordering details of participating Canmore restaurants providing take-out and dine-in options - bringing you some amazing festive dinner choices.
Play another game, read another chapter, nap a little longer, ski one more run and support our very own while letting the local restaurants do what they do best! 
Whether your taste buds crave more classic or creative style menu, the options look delicious... Read on!
*List will be updated as applicable.
Table Food & Drink ~ 
Buffet
Assortment of freshly basked artisan bread and butter, apple pie scented roast butternut squash soup, selection of fine Canadian and imported & artisan cheese 7 fresh season fruits, mixed green salad with seasonal vegetables and assortment of house-made dressings, pearl couscous salad with haricot vert, grape tomatoes, sweet peppers and pomegranate vinaigrette with goat feta cheese, Brussels sprouts salad with red onion, candied walnut and cranberry-orange dressing, panzanella salad, heirloom tomato, cucumber, red onion, croutons, basil sun-dried tomato dressing with baby bocconcini.
Herb roast potatoes& buttermilk mash potatoes, roast winter vegetables, roast tom Turkey, confit let, chorizo pecan cranberry stuffing, fresh seared salmon, crusted AAA Alberta beef stripling au jus
Season bread pudding, chef display holiday desserts, cakes, pastries & fresh fruit
Cost: $52/person + taxes & gratuities, 
$21/child + taxes & gratuities
When: December 25, 2021 ~ Seats are available at 4pm & 6:30pm
Malcolm Hotel, Stirling Grill
Cost: $65/person ($25/child ages 5-12, 4 and under free)
When: December 24, 2021 from 5pm-9pm 
Cost: $65/person ($25/child ages 5-12, 4 and under free)
When: December 25, 2021 from 7am-12pm 
Cost: $65/person 
($25/child ages 5-12, 4 and under free)
When: December 25, 2021 from 5pm-9pm
One98Eight (Dead Man's Flats)
Waldorf salad, turkey or pumpkin ravioli, braised red cabbage, pork belly Brussels sprouts, honey glazed root vegetables, confit garlic mashed potatoes, sweet potatoes pavé & sticky toffee pudding.



When: December 24th & 25th, 4pm-8pm
Turkey, mashed potatoes, carrots, green beans, traditional stuffing, artisan rolls & cranberry sauce.

Cost: $45/person (Add $5.95 for a slice of pecan pie)
Pre-Order By: December 20
Order By Phone: 403-609-0222
Order By Email: info@irongoat.ca
Pick Up: December 23, 3-5pm
Location: 703 Benchlands Trail
CORNERSTONE CATERING, Cornerstone Café at Canmore Nordic Center
Roast turkey with herb infused butter, traditional turkey stuffing, cranberry sauce with fig and candied orange zest, rosemary turkey gravy. Plus... Ham with a maple syrup & spice glaze, caramelized applesauce and garlic & chive mashed potatoes, roasted sweet potatoes with a pear and onion medley, roasted root vegetables & charred Russel sprouts with an aged balsamic glaze.
Fully cooked turkey with traditional stuffing & rosemary turkey gravy.
Pre-Order By: December 19, 2021 at 12 noon
Phone: 403-609-0004
Pick Up: Cornerstone Café at Canmore Nordic Centre, December 23rd or 24th, between 10 am - 4 pm.
Location: 1988 Olympic Way
SAGE BISTRO & WINE LOUNGE (
Heat & Eat)
Menu 1 ~ 3 Course Christmas Turkey & Ham Dinner
Maple roasted butternut squash soup
Sage roasted turkey breast, Bourbon-sage turkey gravy, honey-Dijon ham, roasted garlic mash potatoes, sage-onion bread stuffing, festive vegetables, cranberry-orange sauce
Maple pecan pie.
Menu 2 ~ 3 Course Beef Short Rib Dinner
Crab & seafood cake, rock crab & salmon & prawns & citrus-chive aioli & fresh pea shoots
Braised beef short rib, red wine, tomato & rosemary braised Alberta beef short rib, potatoes grand meré (Dijon-rosemary cream) & daily fresh vegetables
Callebaut chocolate mousse, fresh berries
Menu 3 ~ 3 Course Bouillabaisse Dinner
Smoked Steelhead trout, apple-horseradish aioli, potatoes rösti, pea shoots & lemon
Seafood Bouillabaisse, 3oz cod fillet, 6 P.E.I. mussels, 4 prawns, fingerling potato, tomato-saffron lobster broth, perno, fennel, leeks, fresh herbs, garlic butter baguette
Coupé Tiramisu, espresso-soaked lady fingers & cognac & lemoncelle & mascarpone 
Pre-Order By: December 20, 2021 by 12 pm
Order By Phone: 403-678-4878
Order By Email: todd@sagebistro.ca
Pick Up: December 24, 2021
Location: 1600 Railway Ave
Advanced payment via et-transfer required
Roast turkey, stuffing, mashed potatoes, roasted vegetables, green beans, cranberry sauce and gravy.

Pre-Order By: December 20, 2021
Pick Up: December 23rd & 24th, 2021
Location: 1514 Railway Ave
Featured Christmas soup, roast Tom turkey-confit leg, Chorizo pecan cranberry stuffing, buttermilk mashed potatoes, pan jus, seasonal vegetables, Brussel sprouts & candy cane cheesecake!
Pre-Order By: Place order 72 hours prior to pick-up
Pick Up: Pick up December 25, 2021
Location: 511 Bow Valley Trail
Christmas Dinner At Home - Delivery
Homemade dinner roll with herb butter 
Scotch BBQ glazed sausages with grilled pineapple, scallion & toasted sesame seeds
Maple thyme glazed turkey breast, honey butter, cranberry orange sauce, homemade gravy and chefs spice marinated 6oz beef sirloin steak with authentic Chimichurri and peppercorn béarnaise
White truffle and chives mashed potato
Sautéed parsnips and Brussel sprouts with garlic and herbs and lardons
Christmas trifle, shaved almond, pistachio dish, chocolate sprinkles.
Cost: $55/person or Buffet Style to-go $49.99
/person, Minimum 10 people
Email: aviskitchen.canmore@gmail.com
Phone: 403-675-5555
Delivery: December 24, 2021
*List will be updated as applicable. Also, if there is a restaurant needing to be added to this list, offering dine-in or take-out for December 24th or 25th, please email us at Info@CanmoreAreaLiving.ca

~ Brandy Smyth